Welcome to the 7th Annual Cumberland County Hiking Marathon. Please read the rules and register for free by filling out the form below. Registration opens on Sunday, August 15th and closes on Tuesday, August 31, 2021.
Note: Sometimes you have to complete a captcha security check when you submit your registration. If the form does not appear to be submitted use the scroll keys to look for a captcha picture that may be off the screen.
This list is not updated automatically so it may take a day or more to see your name.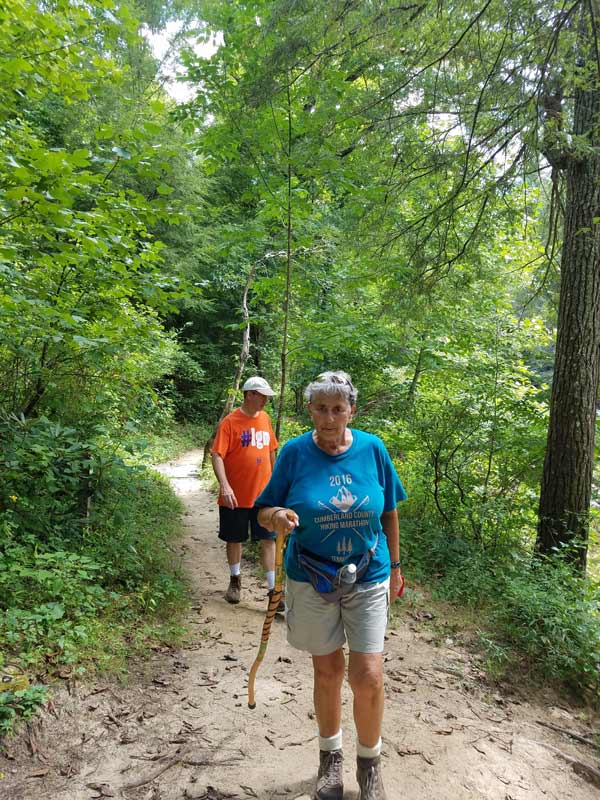 Make a tax deductible donation to Friends of the Trails for use on the hiking trails in Cumberland County. You can specify how or where your donation should be used. We will mail you a receipt for tax purposes.
1. Registration for this event is free. 
2. Release of Liability
In consideration of being allowed to participate in the Cumberland County Hiking Marathon, I acknowledge that hiking on trails can be a hazardous activity, and I assume all the risks associated with this activity. I waive all claims for damages against the Friends of the Trails and its officers for injury to my person or property, including death and destruction, that may arise from this activity, and I release the Friends of the Trails and its officers and agree to hold them harmless from any such liability. This agreement shall be effective when I submit my registration and shall remain in force for the duration of the 2020 hiking marathon.
3. Newsletter Signup
By registering for this event you are agreeing to be added to the Friends of the Trails email list to receive information about trails in Cumberland County, TN. You can unsubscribe from this list at any time. Send any questions or comments to hike@hikingmarathon.com