The plans for 2021 Hiking Marathon are well advanced. All the information will be available here on August 15th when registration opens. Until then do not rely on the information here as it is mainly from last year.
Hike 26.2 miles individually or in small groups over one month at your own pace on specially selected trails on the Cumberland Plateau. It is completely FREE to enter. Participate in the marathon and get a free T-shirt at the Hit the Trails Festival in October. Finish the marathon and also get a patch. Bring a dog with you and the dog will get a bandana.
You can download a log-sheet to record your progress as the whole marathon is done on the honor system.

Share your experiences. Go to the "Contact" page and leave comments on your experience and upload a picture. You can also use this form to report any problems that you come across on the trails.(or errors on this website.)
A QR code is a strange graphic consisting of black squares and dots. If you try to take a picture of a QR code with your phone it will offer to take you to a website. Accept the offer with our QR codes and you go straight to the appropriate  trail map and description.
You will find the QR code at each trail-head attached to the top of one of the marathon signs. Snap a picture and bring up the trail map on your phone. It is as easy as that.
(You can test the feature using  this QR code.)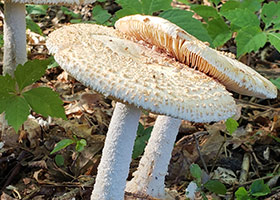 Quite a few marathon trails this year are "in -and-out" hikes. We have marked the the point at which you turn and retrace your steps with these brown signs.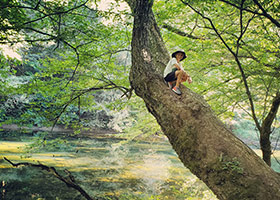 Download Marathon Logsheet
Download All Trails PDF
Download 10K Challenge Logsheet
Download 10K Challenge Trails PDF
Make a tax deductible donation to Friends of the Trails for use on the hiking trails in Cumberland County. You can specify how or where your donation should be used. We will email you a receipt for tax purposes.